Chateau Frontenac Castle Boardwalk At Night Quebec City
Chateau Frontenac castle and hotel lies near a timeless boardwalk on a bluff overlooking the water's edge in Quebec City.
Chateau Frontenac lies high on a bluff near a very popular boardwalk that is even thriving with visitors at night.
Lovestruck couples and awe-inspired tourists flock to the boardwalk at Chateau Frontenac to experience life near a castle.
At night, the view of the mighty St. Lawrence River and...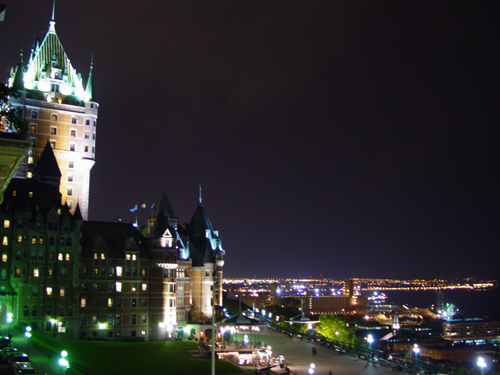 All Photo Galleries » Quebec Pictures
...the twinkling lights of Quebec City and Levis set the mood for a delight to the eyes in this magical area.
While very busy and bustling with activity and noise in the day, the boardwalk is quieter at night and much more relaxing to take a stroll.
To get the best pictures of Chateau Frontenac and the view of the boardwalk, it's best to wait until after sunset and take pictures from across the river at the park in Levis.