Quebec City Summer Festival Rue Saint-Jean
The Quebec City Summer Festival attracts many people to several parts of the city as seen in this picture of Rue Saint-Jean.
The Quebec City Summer Festival, or in French "Le Festival d'été de Québec", is an annual celebration spanning 11 days where hundreds of shows are performed making it Canada's biggest outdoor artistic event.
Music of all kinds are performed from rock, pop, jazz, reggae, folk, hip hop, blues, and classical to name a few.
The scene in the image below is from Rue Saint-Jean where people go from shop to shop to pick up souvenirs and also stop for a bite to eat at popular restaurants such as Pizzeria d'Youville.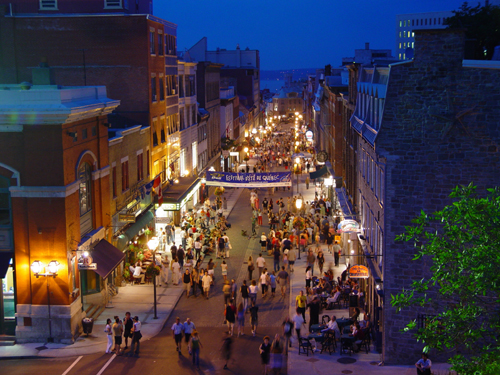 All Photo Galleries » Quebec Pictures
The excitement in the air is real as the indoor and outdoor musicians and performers around the festival receive spectators of over a million and a half people.
The three main outdoor arenas hosting shows in the festival are the vast Plains of Abraham, the Parc del la francophonie, and the Place d'Youville. This is a festival not to miss!