Lunch Vieux Quebec City Street Canada
People have lunch on city street Rue Ste-Anne in "Vieux Quebec" or "Old Quebec" in Quebec City, Canada.
People have lunch on Rue Ste-Anne in Vieux Quebec or "Old Quebec" near Chateau Frontenac in Quebec City Canada.
Vieux Quebec is a neighborhood in Quebec City that refers to anything inside of the city walls.
It's a historic area where many of the buildings look very European and classic giving a romantic feel to the city.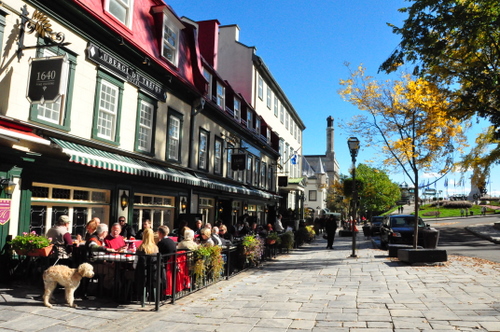 All Photo Galleries » Quebec Pictures
Within a quick walk is Chateau Frontenac that can be seen while dining on this street.
Breakfast is big in Vieux Quebec and actually any meal is big with most restaurants featuring dining on the street or in a window that opens to the street.
Most tourist's favorite pastimes in this city are dining and people watching while viewing the beautiful sights that Quebec City has to offer.