Unique Religious Cross Shadow Chateau Frontenac Quebec City
The shadow of a religious cross casts down onto green grass with Chateau Frontenac in the background in Quebec City.
On the steep, curvy roads in Old Quebec in Quebec City, there is a street with lots of boutiques selling wares and souvenirs.
Just above that street is an overlook that gives a beautiful view of Chateau Frontenac among the autumn trees.
In the foreground, you can take unique pictures of a cross with the shadow casting a dark religious cross on the bright green grass.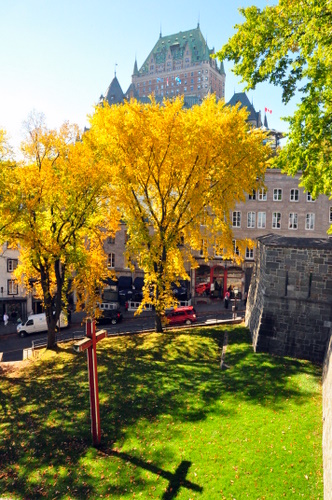 All Photo Galleries » Quebec Pictures
Quebec City has several beautiful religious cathedrals and churches to visit while walking around and sightseeing.
This little street heads down to the side of the Saint Lawrence River and is quite a walk from top to bottom!