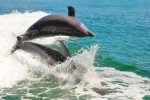 Fun Facts About Dolphins
A couple of bottlenose dolphins have fun in the water as they almost jump on top of each other.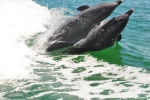 Interesting Facts About Dolphins
As these two dolphins surge out of the water together, it made me think, what are some interesting facts about dolphins?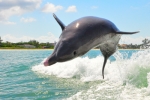 Dolphin Jumping Out of the Water
Can you imagine seeing a dolphin jumping out of the water this close? Bottlenose dolphins love to play and this one was just off of Sanibel Island in Florida.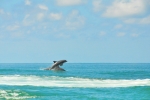 Common Wild Dolphins Playing In Gulf Florida
A couple of common wild dolphins play out in the blue green waters of the Gulf of Mexico just off the coast of Florida.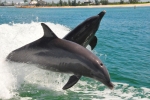 Wild Bottlenose Dolphins Jumping Sanibel FL
Two wild bottlenose dolphins jump out of the water together off the coast of the island of Sanibel in Florida.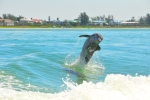 Bottlenose Dolphin Leaping Sanibel Island FL
A bottlenose dolphin in the process of leaping out of the water is on its tail next to another dolphin underwater near Sanibel Island, FL.