Dolphin Jumping Out of the Water
Can you imagine seeing a dolphin jumping out of the water this close? Bottlenose dolphins love to play and this one was just off of Sanibel Island in Florida.
A playful and powerful dolphin dramatically jumps straight out of the water almost seeming like it would land in the boat!
Dolphins seem to have a playful side and can be seen surfing and following boats as this one is doing.
The wake created by the boat gives the dolphin some entertainment to show off its skills and even seems to be somewhat of a social interaction with humans.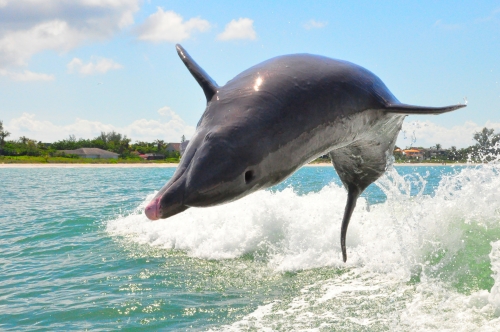 All Photo Galleries » Dolphin Pictures
Dolphins are regarded as one of the most highly intellgent animals on the planet and even though it's hard to judge due to them having completely different senses than we do, their behavior seems to suggest they are highly intelligent creatures.
They've been seen displaying a sense of culture by passing on teachings to their young ones such as teaching them to cover their snouts with sponges to protect them while foraging.
Fun, however, comes from within and seeing this dolphin bursting from the water into the air with so much energy and playfulness just confirms to me how special they are.