Fun Facts About Dolphins
A couple of bottlenose dolphins have fun in the water as they almost jump on top of each other.
As I look at this picture of two dolphins having fun jumping out of the water, I thought I would compile a list of fun facts about dolphins.
From the majority of reference I could find, many think that dolphins can jump as high as 15 feet out of the water.
A dolphin's brain mass (1500-1700 grams) is actually slightly larger than a human's brain mass (1300-1400 grams) and four times as large as a chimpanzee (400 grams).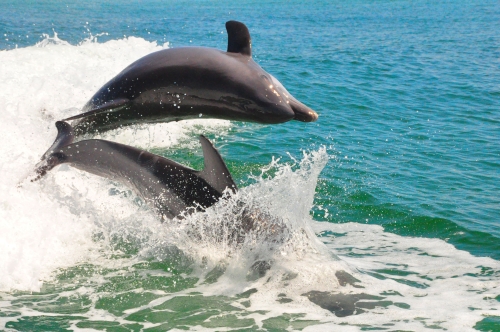 All Photo Galleries » Dolphin Pictures
Dolphins engage in complex, playful behavior where they can do such amazing things such as blowing stable underwater bubble rings.
They then examine the bubble rings and even enjoy biting them to burst them into several smaller bubbles that float to the surface.
Since dolphins can't breathe underwater, they hold their breath for several minutes and some dolphins can hold their breath up to 15 minutes.