Bottlenose Dolphin Leaping Sanibel Island FL
A bottlenose dolphin in the process of leaping out of the water is on its tail next to another dolphin underwater near Sanibel Island, FL.
A quite playful bottlenose dolphin leaps out of the water and is on its tail near Sanibel Island, FL.
Another bottlenose dolphin is just in front of it underneath the teal and blue water of the Gulf of Mexico on a beautiful day.
Several groups of dolphins can be seen near Sanibel and the Captiva Islands as they congregate in groups and travel together.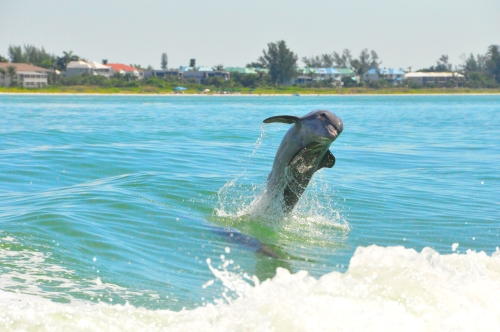 All Photo Galleries » Dolphin Pictures
They are very smart and enjoy chasing boats and jumping out of the water between the waves the boat makes as can be seen in this photo.
This was just a small group of wild dolphins that were playing around for a couple minutes giving a great show.
I love the way it always looks like they're having a great time with a smile on their face.