Interesting Facts About Dolphins
As these two dolphins surge out of the water together, it made me think, what are some interesting facts about dolphins?
As this pair of dolphins come jumping out of the water in unison together, the thought might arise, what are some interesting facts about dolphins?
One interesting fact about dolphins is that they actually need to be conscious to breathe or else they would drown. So what they do is let half of their brain sleep while the other remains awake which has been confirmed by doing EEG results giving them around 8 hours of sleep a day like us.
What and how much do dolphins eat? Since most of their diet consists only of fish and squid they eat around 4-9% of their body weight. For instance, a dolphin weighing 600 pounds would eat about 24-54 pounds of fish per day.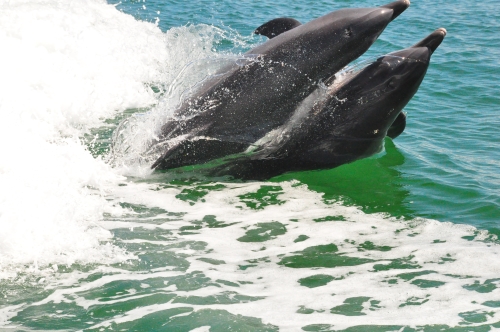 All Photo Galleries » Dolphin Pictures
How long do dolphins live you ask? The oldest a dolphin will reach is normally 40 to 50 years but this heavily depends on the region of the dolphin's habitat meaning that most dolphins do not reach their maximum age.
Another interesting question about dolphins is how deep can a dolphin dive? The deepest dive known for a bottlenose dolphin was 300 meters (990 feet) by a US Navy trained dolphin named Tuffy. As impressive as this is, larger whales such as the sperm whale can dive many times further!
One interesting fact about dolphins that I never even thought of is can dolphins drink salt water? Surprisingly, the answer is no! Even though most dolphins live in the ocean, the water is too salty for them to drink so they get most of their water from their food and from metabolizing their own body fat.