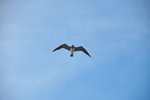 Florida Seagull In Flight Overhead
A Florida seagull soars overhead in the blue sky in Daytona Beach.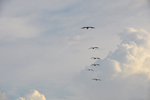 Florida Pelicans Birds Flight Clouds
A small flock of Florida pelicans soar through the sky in a line formation. These birds are seen up and down the coast either cruising high or skimming the water looking for fish.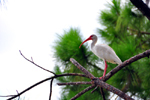 White Ibis Bird Celebration Florida
A white Ibis bird sits in a pine tree in Celebration, Florida. This Floridian bird is common around ponds, marshes, beaches, and freshly mowed grass.