Wild Bottlenose Dolphins Jumping Sanibel FL
Two wild bottlenose dolphins jump out of the water together off the coast of the island of Sanibel in Florida.
Seeing multiple wild bottlenose dolphins jumping out of the water this close isn't something that most people get the chance to experience.
This group of wild dolphins, called a "pod", thoroughly enjoyed travelling alongside the boat and leaping out of the waves near Sanibel Island in Florida.
From each side of the boat, the dolphins effortlessly lept out of the water and splashed back into it, easily keeping up with the boat.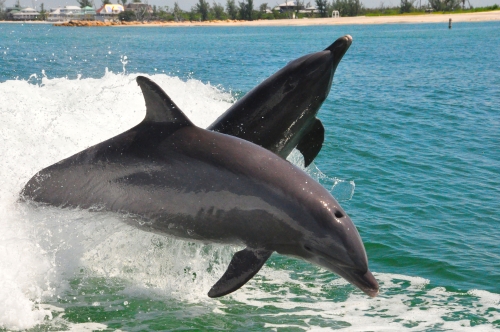 All Photo Galleries » Dolphin Pictures
Stories are often told of how dolphins have a curiousity towards humans and have even saved human beings from drowning by raising them to the surface.
One dramatic story out of New Zealand was where four lifeguards were swimming off the coast where a Great White shark was reportedly about to attack. Several dolphins herded the lifeguards together protecting and surrounding them for forty minutes until they slowly made it to shore.
Now if that doesn't show a good amount of intelligence, I'm not sure what does.