Picking A Basket of Red Raspberries Levis Quebec Canada
A basket of freshly picked red raspberries rests near rows of raspberry bushes across the river from Quebec City in Levis in Quebec.
Wild, delicious red raspberries delight the tastebuds and picking a basket near Quebec, Canada in Levis is such a treat.
Quebec has a variety of fruit orchards that are available to be picked by passerbys for a small fee, which turns out to be a major deal compared to buying them in the store.
The farmer that works this area apologized for the "small" baskets that she only had left, which was much more than we could even eat.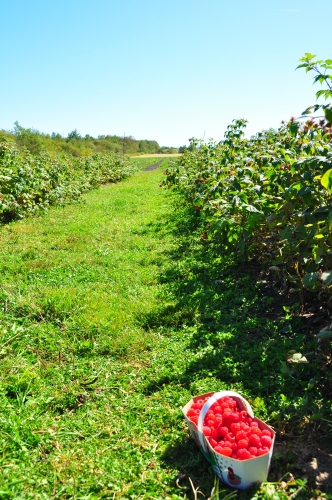 All Photo Galleries » Quebec Pictures
If you ever get to take a nice drive around Quebec or even on the beautiful island, Ile D'Orleans, it's definitely worth the small price to just taste even one of these delicious raspberries.
The comparison to store bought raspberries in the U.S. is no comparison at all.
For any raspberry lover, this is a real dream come true.