Canyon Sainte-Anne Waterfall Rainbow Quebec
Canyon Sainte-Anne in Quebec, Canada boasts a gorgeous and powerful waterfall adorned by rainbows from the mist that drops a breathtaking 222 feet (74 meters) into a steep sided gorge.
Canyon Sainte Anne is a beautiful natural park that's well worth the short 30 minute trip from Quebec City, Canada.
The spectacle of Canyon Ste-Anne is the massive waterfall that tumbles down 222 feet (74 meters) with vantage points located all along the trail that circles the park.
At certain times of the day if the sun is out, the beautiful waterfall is accompanied by large colorful rainbows created by the mist that shoots up from the bottom of the falls.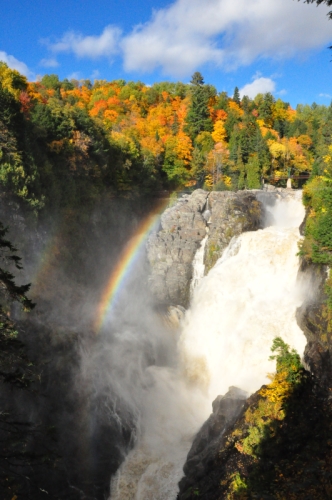 All Photo Galleries » Quebec Pictures
At one point along the trail at Saint Anne Canyon, there's a walkway that extends out into the mist for those who don't mind getting wet.
In the background of this photo is Mestachibo Bridge that extends across Sainte-Anne-du-Nord River.
If you want to catch the beautiful fall colors, visit in early to mid October where the leaves start changing to the colorful autumn colors of red, orange, and yellow.