Rue Saint Jean Historic Old Quebec City
Rue Saint Jean packed with tourists offers up some great shopping in an old world feel in historic Old Quebec.
In historic Old Quebec City, one of the many appealing streets to walk down would be Rue Saint Jean.
Tourists and cars pack the city street as they move from shop to shop and make their way into the city walls.
You can see in the picture the Fleur de Lis flag in the background and also the popular Pizzeria D'Youville.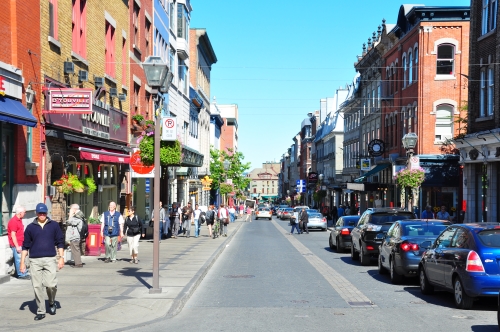 All Photo Galleries » Quebec Pictures
The summer in Quebec City is filled with festivals such as the Jazz Festival that attracts people from all over to listen to music and take in the sights along Rue Saint Jean.
Also during the summer, the street is closed to vehicles on weekday nights, weekends, and holidays to let pedestrians get the full experience of this beautiful street.
Since the good weather only lasts a few months of the year, the locals flock outside and you can see from the light posts that baskets of flowers are hung to adorn the city with life and color.