Fountain de Tourny Water Fountain Parliament Quebec City
Tourny fountain in front of the Parliament building is beautiful gift with a history.
Fontaine de Tourny shown gushing water in front of the Parliament building.
This beautiful fountain actually spent over a century in France before becoming a Quebec City landmark.
The fountain was created by Mathurin Moreau and won a gold medal at the 1855 Paris World Fair.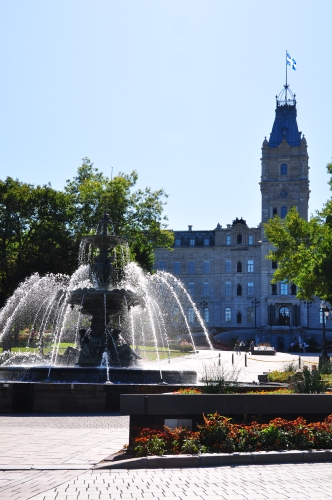 All Photo Galleries » Quebec Pictures
From the time of 1857 to 1960 it was located on an avenue called Allees de Tourny in downtown Bordeaux when it was finally removed by the city because of operating expenses.
Interestly, Bordeaux happens to be one of Quebec's twin cities so it is only fitting that it eventually ended up in Quebec as a 400th anniversary gift gift from a man named Peter Simons of La Maison Simons.
There are statues of a man and three women on the base of the fountain symbolizing water and four children holding hands representing navigation and fishing.