Chateau Frontenac Castle Lit Up At Night
At night, Chateau Frontenac castle comes alive with romantic lighting capturing its gorgeous towers and magnificent presence.
The magnificent Chateau Frontenac castle and hotel comes alive at night once it's lit up and bathed in glowing accent lights.
What could be more romantic than a moonlit walk down the boardwalk at night with the one you love right next to a beautiful castle?
This castle, which technically is a hotel, is a timeless monument in the area of...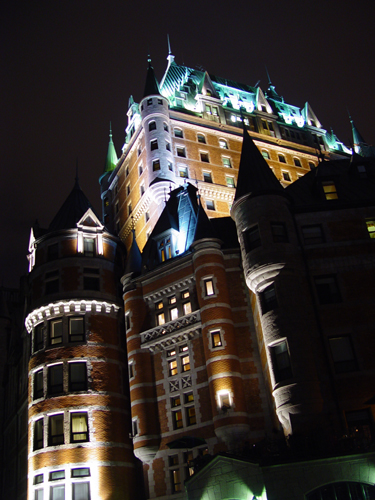 All Photo Galleries » Quebec Pictures
...Quebec City with it's tall towers and beautiful stone siding.
Sitting on top of a bluff and accented with lush greenery and heavy cannons, Chateau Frontenac cannot be overlooked and brings great cultural significance to Quebec.
It's no wonder that this elegant hotel and castle is known to be "the" heart of Quebec City.