Canadian Flag Flying
The Canadian flag flies in the wind adorning its red and white along with the Canadian maple leaf.
The Canadian flag flies over Quebec adorning its world reknowned Canadian maple leaf as well as its red and white colors.
Canadian maple leaf flag history dates back officially to February 15, 1965 (now known as National Flag of Canada Day) when it was adopted to replace the union flag.
John Matheson was the leader of a multi-party parliamentary committee who was responsible for selecting the design of the new flag.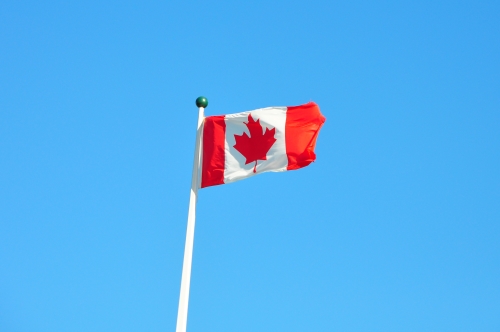 All Photo Galleries » Quebec Pictures
Who designed the Canadian flag was George F.G. Stanley. He used the flag flown by the Royal Military College of Canada as inspiration for the modern Canadian flag for the colors.
Jacques Stain-Cyr designed the image of the maple leaf which was tested in wind tunnels to be the least blurry in high wind.
The meaning of the colors on the flag were from when King George V proclaimed the official colors to be red, from Saint George's Cross, and white, from the French royal emblem.