Fleur de Lis Province of Quebec Flag
The blue and white province of Quebec flag flies above a hotel adorning the fleur de lis.
The flag of Quebec, called the fleurdelise, flies above a hotel showing off its blue and white colors and adorning the fleur de lis.
The fleur de lis literally means "lily flower" and the symbol is actually a stylized lily.
It has appeared on many coats of arms but specifically refers to the French monarchy and still appears on French postage stamps.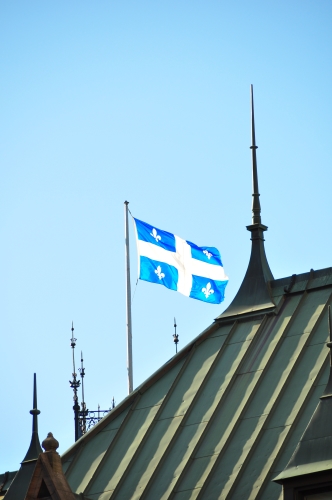 All Photo Galleries » Quebec Pictures
It was adopted on January 21, 1948 and was the first provincial flag adopted in Canada.
The white cross and white fleur de lis is symbolizes purity and was originally supposed to represent the Virgin Mary.
The flag of Quebec is one of the most well known flags in all of Canada and the U.S.