Autumn Fall Colors Road Quebec Canada
The fall colors down a road in Quebec, Canada are vibrant in red, yellow, orange, and green during the later autumn months.
The beautiful fall colors in Quebec Canada are vibrant with red, yellow, orange, and green shown here down this road late in autumn.
Temperatures this time of year are around 40-50 degrees F making it not extremely cold but cold enough for a good jacket if you're going to be out enjoying the fall colors.
Since Canada is located more north, the rainbow of beautiful colors begin to show earlier and the leaves start falling off sooner than its more southern neighbor.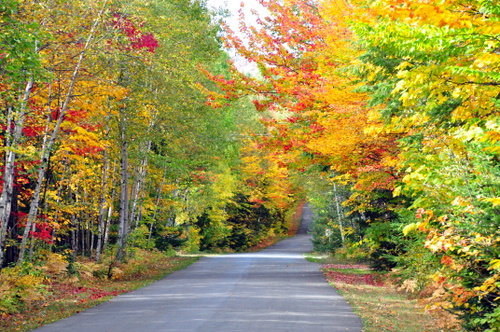 All Photo Galleries » Quebec Pictures
Maples trees begin to shed their bright red leaves and start gearing up for maple syrup production in the coming months.
Many visitors like to take the red maple leaves and store them in the pages of a book to keep them for later.
Being from Florida, I can say the myriad of exquisite colors dangling from the trees is a sight to see and well worth the trip.