Quebec City Gate Overlook At Night Canada
Quebec City at night is beautiful from one of the gates in the city near Porte St. Jean.
Quebec City glows at night and with the high hills and mountains in the background, many overlooks in the city give a spectacular view.
This view is near Port St. Jean from on top of the gate after the sun went down.
The gates in Quebec City match Chateau Frontenac in that they have the familiar castle towers rising above the street.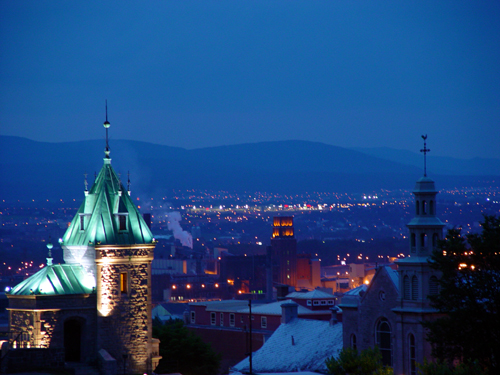 All Photo Galleries » Quebec Pictures
Walking atop and near the arches is almost scary as the walls are very high and would be a long way down if you fell. Many people like to sit on the edge and dangle their legs over to get a picture.
The mountains in the background almost remind me of the ones in Blue Ridge in how they fade back into the scenery.