Hotel Frontenac High Above Quebec City
Hotel Frontenac also known as Chateau Frontenac sits high above the city streets below along the Sainte Lawrence River in Quebec City.
The grand Hotel Frontenac, more widely known as Chateau Frontenac sits on a hill high above the city streets of Quebec City along the St. Lawrence River.
Although it rests in Canada, Hotel Frontenac was actually designed by the American architect Bruce Price and opened at the end of the 1800s in 1893.
Little known by people visiting this hotel, Hotel Frontenac actually has a sister hotel called the Banff Springs Hotel.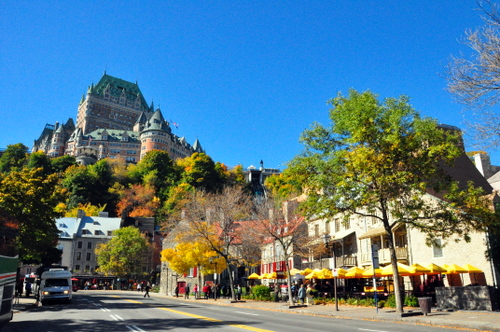 All Photo Galleries » Quebec Pictures
In 1980, Chateau Frontenac hotel was designated a National Historic Site of Canada and rightly so as this beautiful structure is widely recognized as the heart of Quebec City.
Hotel Frontenac was named in honor the Count of Frontenca, Louis de Buade who was governor of the colony of New France back in the 1600's.
Just a brief walk away is La Citadelle which was built before the hotel in the 17th century.