Canoeing Kayaking Jacques Cartier National Park
Jacques Cartier National Park (or Parc national de la Jacques Cartier) offers canoeing, kayaking, rafting, and many other great ways to experience the beautiful wilderness of Quebec Canada.
Jacques Cartier National Park is a gem located just 30 minutes away from beautiful Quebec City in Canada.
For a small price, canoes, kayaks, and rafts can be rented from 1 hour to as much as a day to help outdoor enthusiasts experience some of the best that Quebec has to offer in terms of scenery.
The parking area has space allocated for all of the water equipment and as soon as you pull into the park, the canoes and kayaks just call out to you.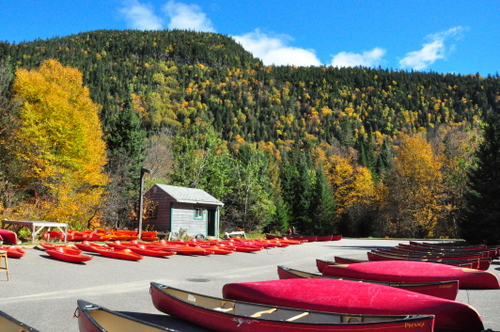 All Photo Galleries » Quebec Pictures
In early to late October, the fall colors really dot the landscape with all the beautiful colors of autumn.
For those who might not want to get anywhere near the water, there are several hiking trails nearby ranging from a little over a mile to several miles.
One thing is for sure, bring a camera because the scenery is refreshing and beautiful pictures can be found around every corner.