Rays of Sunshine Shady Forest Canyon Sainte Anne Quebec
Rays of sunshine light the path and illuminate the mist coming from the waterfall at Canyon Sainte Anne in Quebec, Canada.
Walking along the path at Canyon Sainte Anne in Quebec, Canada will give you many surprises and beautiful scenes.
The shady path through the forest begins to open up where the sun is beaming its rays through the mist from the nearby waterfall.
Incredibly, the waterfall is actually located some distance from this spot but the massive power of the water going over the falls shoots it all the way up to this path, hundreds of feet above the water line.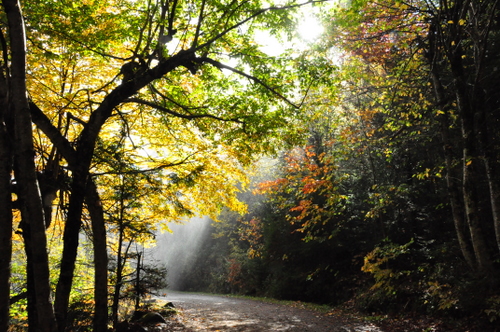 All Photo Galleries » Quebec Pictures
In this photo, you can already see the fall colors coming through on the branches of the trees in yellow and red and some of the leaves have already begun to fall.
Just a few more paces out of this canopy of trees and you will get wet from the mist shooting up and then falling down almost as if it was raining.
When a beautiful day like this comes along, it's worth it to get out and experience nature at its best! The weather here at this time is about 55 degrees and sunny.