Black Eyed Susan Yellow Daisy Flowers Levis Quebec
A bunch of Black eyed Susan flowers, also known as yellow daisies flower at the top of a street in Levis Quebec, just across from Quebec City.
Beautiful Black eyed Susan flowers, or yellow daisies, bloom high on a street in Levis, Quebec across from Quebec City.
The streets in the summertime in Quebec are beautiful with residents planting flowers all over the city.
This is a very common wildflower in the United States but also makes a beautiful potted plant as well.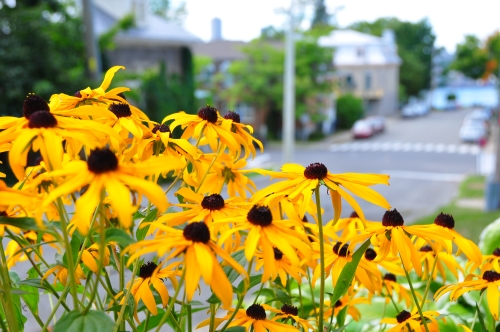 All Photo Galleries » Quebec Pictures
Sightseeing in Quebec is wonderful in the summertime since the city is just filled with flowers and plants in almost every yard and porch.
Down the main streets there are potted plants hanging from store windows and brightening up every corner of the city.
This makes picture taking all the better with wonderful backdrops to go alongside memories.