Chateau Frontenac Castle and Hotel Night Quebec City Canada
Chateau Frontenac castle and hotel at night is a beautiful and romantic place that people from all over come to see in Quebec City, Canada.
Chateau Frontenac castle in Quebec City, Canada is actually a hotel that overlooks the Saint Lawrence River.
It's a real life castle in a sense from the beautiful romantic architecture and is perched high on a cape. It fulfills many people's dreams of being able to stay as royalty in a castle since the rooms are available to be booked by everyday people just as any ordinary hotel.
There's nothing ordinary about this area, however, with the historical streets of Quebec City harboring...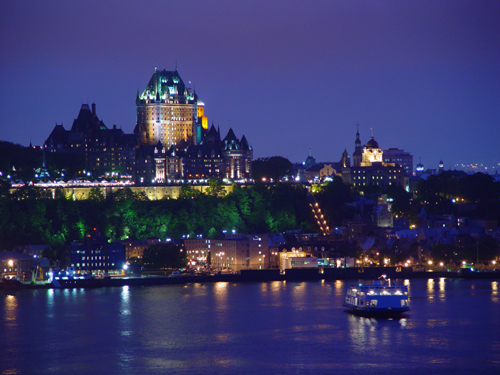 All Photo Galleries » Quebec Pictures
...cute patisseries offering sweet treats and delicious restaurants that line the city's cobblestone roads.
Also seen in the picture is one of the ferry boats that transports people and cars across the river from Levis to the Quebec City in front of Chateau Frontenac.
Visiting Quebec City in the summer yields the best weather for walking around and experiencing all that Quebec City has to offer. There are several festivals and outdoor activities around Chateau Frontenac that attract many people and keep them coming back year after year.