Night Lights Cruise Ferry Levis Quebec City Skyline
The night lights at the edge of Quebec City glow near the ferry boat station and a docked cruise liner on the St. Lawrence River. In the background to the right is the soft glow of Levis, Canada.
Looking over the Saint Lawrence River from the terrace at Chateau Frontenac, the night lights of Levis and the edge of Quebec City glow with a soft radiance.
A cruise liner is docked just on the edge of the shore and the normal Quebec City to Levis ferry system works to bring people to and fro.
At night in town, tourists fill the streets looking for entertainment, a quick drink, and some good music.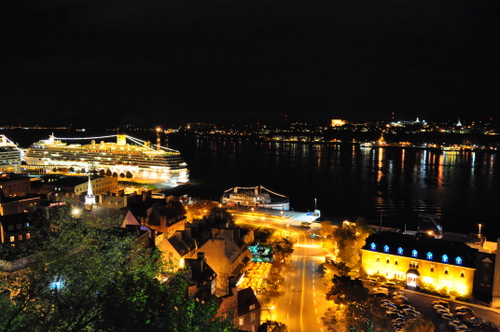 All Photo Galleries » Quebec Pictures
The city of Levis is only a small ferry boat ride away where many residents live. The ferry boat is their short commute to work in Quebec City.
From the Levis side, there is a wonderful terrace where you can view the entire Quebec City skyline with Chateau Frontenac as the centerpiece.
Far off to the left in this photo is L'Isle D'Orleans or "the island of Orleans" where only a single bridge connects it to the mainland side.