Rue du Tresor Art Alley Quebec City
The well known Rue du Tresor is a small art alley in Quebec City filled with artist's paintings up for sale from as little as $10 to over $100.
The Rue du Tresor is a small open-air art alley in Quebec City that is well known for being a place where artists bring their paintings and artwork for sale to the public.
This little art alleyway can be seen day or night and is a great place if you're looking for that special piece that you might find at the right price from as little as $10 to over $100.
Rue de Tresor even has its own website where the current artists are listed and you can get a preview sampling of their artwork.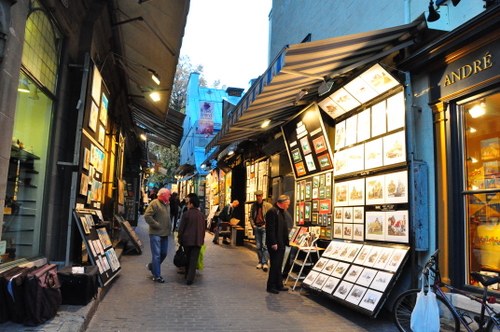 All Photo Galleries » Quebec Pictures
This narrow alley street is located very close to Chateau Frontenac and was founded in the 1960s by fine art students who wanted to exhibit their works.
Obviously it was a big success as it has been open ever since and the name Rue du Tresor actually means "Treasure Street".
If you're visiting Quebec City and want to experience a little local artwork, be sure to stop by this little treasure of a street.