Fall Foliage Canyon Sainte Anne Quebec Canada
The fall foliage at Canyon Sainte-Anne is colorful late in the year with bright orange and yellow leaves shedding onto the ground in Quebec, Canada.
The fall foliage late in the year at Canyon Sainte-Anne in Quebec Canada is brightly colored with orange and yellow leaves falling to the ground.
It's the beginning of October and it looks like almost half of the leaves here have changed their color from green to the golden colors of autumn.
This is the entrance to Canyon Ste-Anne which is a large natural park with a looping network of trails that encircle the main attraction of a 222 foot waterfall.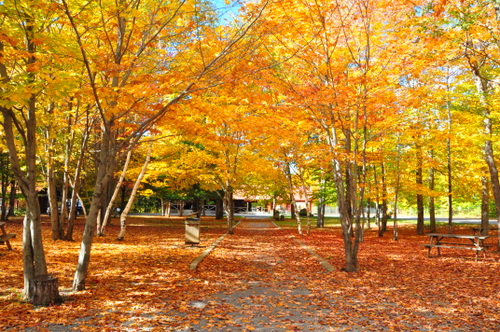 All Photo Galleries » Quebec Pictures
The loop takes you from the visitor's center across the main river falling over the falls, through a small part of the forest where you'll see much more fall foliage. The trail stops several places along the way to give you great shots of Canyon Sainte-Anne waterfall.
Part of the trail takes you high up over the falls across a suspension bridge, and then down a long staircase where you can get a close up feel of the power of the flowing water.
Then it's back to the visitor's center where you can gather up piles of leaves to toss into the air.