Southernmost Point Buoy Key West Florida
The Southernmost point buoy in Key West, Florida is one of the most visited and photographed spots on the entire island.
The famous Southernmost Point Buoy is a very popular attraction on the island of Key West.
Even though the Southernmost Point Buoy marks the spot that is farthest South in the continental United States this claim is not completely accurate.
Ballast Key is technically the point most South in the U.S. but it is privately owned.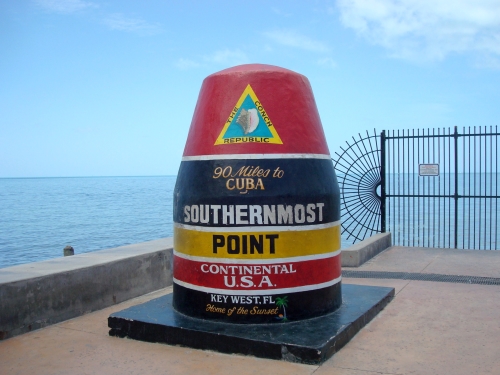 All Photo Galleries » Florida Pictures
Historically, there used to be a sign marking this spot in Key West but since it was stolen so often, the city created this concrete buoy as a permanent fixture in 1983.
On the monument is marked "90 miles to Cuba". For the tourist, this is a must have picture proclaiming you've been as far South as you can go.