Inspirational Sun Rays Parting Clouds
An inspirational scene where the sun's rays shine through, dramatically parting the clouds and lighting the ocean.
One morning out at the shores edge, while viewing a sunrise on a cloudy day, this dramatic scene began to unfold.
The sun's rays began to shine so brightly and at a moment's notice, the clouds began to part creating a shower of sunlight through a hole in the clouds.
Many spiritual pictures try to convey a warm glowing feeling and I think this one captured it.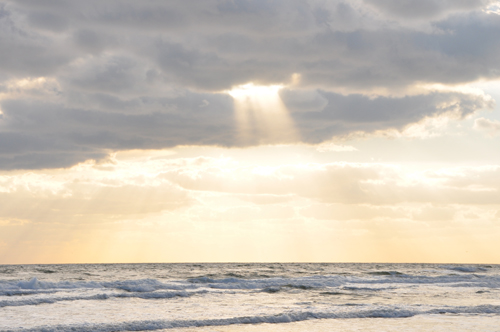 All Photo Galleries » Florida Pictures
Nature can provide many opportunities for almost religious experiences. I've heard of many people being brought to tears in places like Yosemite National Park.
This is one reason why I love photography so much. You can almost capture that inspirational feeling visually if you get the chance to open the shutter at the right time.