Beautiful Early Morning Beach Sunrise Scenery
The beautiful scenery in Florida of an early morning beach sunrise fills the sky with warmth and highlights seagulls in flight.
Seeing a beautiful sunrise on the beach in Florida is especially nice since it's a place where mornings and the air are the perfect temperature for a walk down the beach.
A beautiful sunrise can fill the soul and recharge the spirit with the promise of a new day.
Small birds pecking in the soft sand and seagulls in flight fill the scene with life and wonder.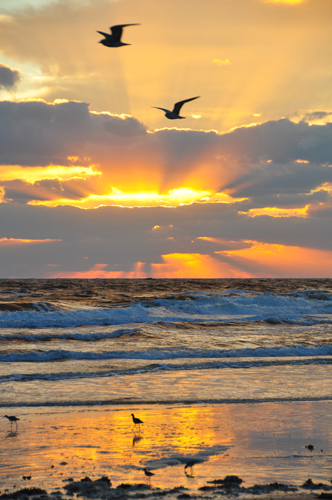 All Photo Galleries » Florida Pictures
If you're vacationing in the Daytona Beach area, make sure to wake up early and head out to the beach with a blanket to sit on the cool sand.
Watch the sun make its journey over the horizon and then head out for a good breakfast!
I don't think anything can feel much better than that.