Florida Manatee Ormond Beach
A Florida manatee surfaces for air on the Halifax River in Ormond Beach, Florida.
A Florida manatee tags along and surfaces for air on the Halfax river in Ormond Beach, Florida.
Nicknamed the "sea cow" due to them being herbivores and their friendly and non-threatening nature also lends them to danger when it comes to boats. There are numerous areas in the Daytona Beach area where boaters have to abide by "No Wake Zones" due to manatees being injured by boats overhead.
Interestingly, this manatee along with the other two that were with it was extremely curious and seemed to be attracted to the boat motor. Seeing this made me realize how easily they end up getting harmed as you can see the slight scar this one already has on the side of its head.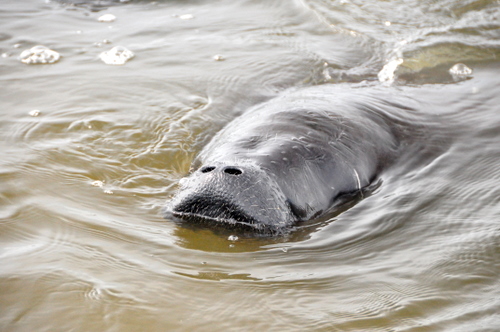 All Photo Galleries » Florida Pictures
There are several clubs that try to remind people to "save the manatees" with shirts, bumper stickers, and regulations since they are killed so often.
Some interesting manatee facts is that they are the only aquatic herbivorous mammal and the closest land relatives to them are elephants.
One place to see manatees up close is at Blue Springs State Park in Central Florida during the winter when they migrate to warmer waters.