Raven Cliff Falls Waterfall Helen GA
Raven Cliff Falls is a beautiful waterfall located at the end of the Raven Cliff Falls Trail near Helen, Georgia.
Raven Cliff Falls is a beautiful and unique waterfall located near Helen, Georgia and is the destination end of Raven Cliff Falls Trail.
The trail extends 5 miles long and is a well marked and travelled in and out trail in White County, GA.
I wasn't sure what to expect as the payoff when hiking this trail but as you can see it's not a normal waterfall that falls straight down.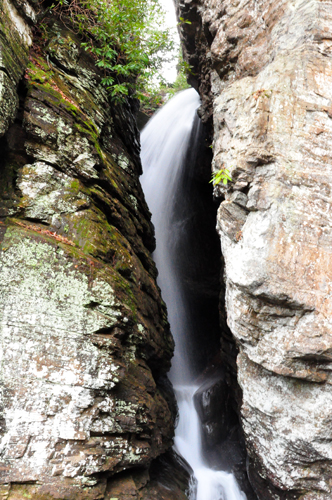 All Photo Galleries » Georgia Pictures
Raven Cliff Falls actually starts its descent from the right and falls 60 feet to the left into a granite fissure, followed by another 20 foot drop into a deep pool, and then finally another 20 feet to Dodd Creek.
Hiking the trail is of moderate difficulty due to the elevation gain most of the way there with the way back being much easier.
For visitors to Helen, Georgia there are a handful of waterfalls in the area and this one should be on your list due to its unique nature and the fun to get to it if you enjoy hiking.