Amicalola Falls Georgia Mid Stream Waterfall
From the bottom of Amicalola Falls at Reflection Pool there is a trail that winds up sharply along a stream midway that cascades from the main waterfall several hundred feet above.
There are cascading waterfalls all along the trail going up to the top of Amicalola Falls in Georgia.
About midway up the trail from the bottom of Reflection Pool the stream cascades off of rocks and through fallen timber. The hike only takes about 15 minutes to the top and is beautiful in both summer and winter.
In the summertime, the forest is lush and...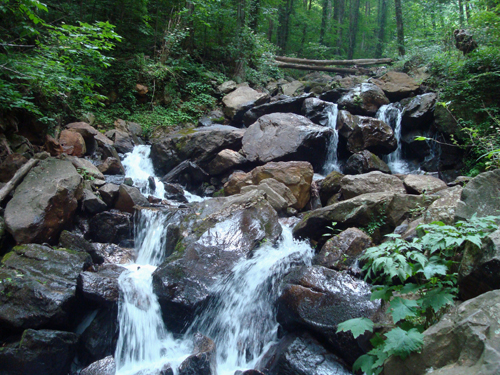 All Photo Galleries » Georgia Pictures
...the leaves are full and green with surrounding vegetation.
It's surprising to visit in the winter because the light beams through brightening everything along the trail and in the summer it's much darker since everything is in full bloom and alive.