Christmas Main St Alpine Helen GA
Christmas on Main Street in Alpine Helen, GA is a lively occasion that has an old world Bavarian Switzerland type of feel.
For those who have not yet been to Helen, GA, it's a small town with an old fashioned Bavarian Switzerland type of feel to it.
All of the architecture is built with sloping roofs with lights that perfectly dot the tops of all of the hotels, and inns and even the more mainstream businesses have to comply to the strict building codes that the city wants to keep the feel of.
In Alpine Helen, Georgia the city has taken on a replica of a Bavarian alpine town in the Appalachians range instead of in the Alps.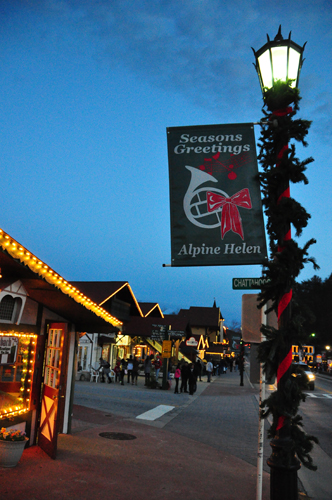 All Photo Galleries » Georgia Pictures
During Christmas, everything is lit up with beautiful lights and days and nights are filled with tourists visiting the local shops and restaurants.
In Septemeber, October, and November, the city hosts its own Oktoberfest and there are many other events throughout the year.
If you're deciding on visiting this cute little town, be sure to check out some of the more natural areas including Unicoi State Park, Anna Ruby Falls, Raven Cliff Falls as well as a handful of others.