Amicalola Falls Trail Path Summer Georgia
Hiking the trail up to see Amicalola Falls from the bottom is the best way to get to the wonderful view of the falls up close.
The trail leading to the bottom of Amicalola Falls is a great short hike on a well established and paved path.
The path in the summer is full of life with blooming flowers and lush greenery. On the way to the falls is a gentle cascading stream originating from the top of the mountain.
It's a great place to get good pictures of insects and also animals since it's teeming with life in the summertime.
Plan on a good 20 minutes to make your way up this...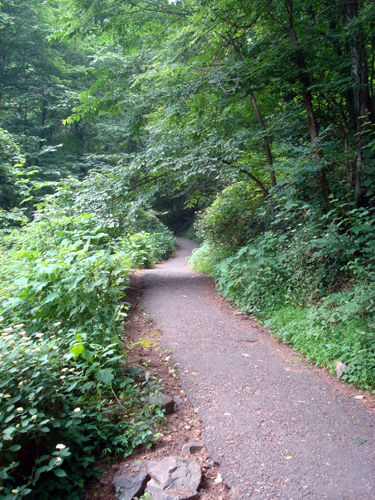 All Photo Galleries » Georgia Pictures
...winding trail and bring water since there are no amenities on the way.
Hiking up the trail will bring you through short tunnels of overhanging bushes and branches. I seen several colorful lady bugs, lazy frogs, and restless birds thriving in this beautiful ecosystem.
The only other way to reach the bottom view of Amicalola Falls is on the side of the mountain where a wooden walkway is built. Otherwise, this will be the best bet.