Appalachian Trail Plaque Unicoi Gap GA
An Appalachian Trail plaque is housed in stone near GA Highway 75 where the trail meets up at Unicoi Gap.
One of the many Appalachian Trail plaques housed in stone rests near Unicoi Gap and meets up at GA Highway 75 near Helen, GA.
On the plaque is inscribed "APPALACHIAN TRAIL", "GEORGIA TO MAINE", and the sentence "A Footpath for Those who seek Fellowship with the Wilderness".
The date shows as 1934 and on the bottom is inscribed "The GEORGIA APPALACHIAN TRAIL CLUB".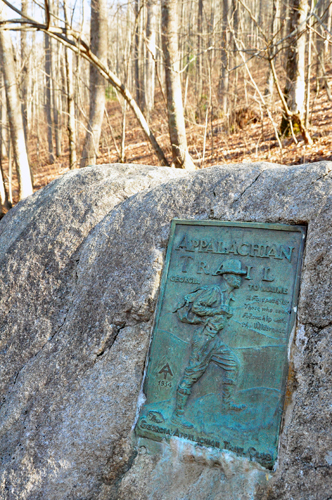 All Photo Galleries » Georgia Pictures
The Appalachian Trail in Georgia has 75 miles worth of trail and originates in Georgia at Springer Mountain.
This part of the trail that meets up with Georgia Highway 75 is beautiful with lots of elevation gain and wide views.
When this photo was taken in the winter in December, there was snow on the ground in the shade and several people were stopping to hike a small ways on the trail.