Trickling Waterfall Through Rocks Georgia
A waterfall trickles through rocks and boulders on a downhill at Amicalola Falls, Georgia.
A trickling waterfall makes its way downhill passing through rocks, boulders, and logs at Amicalola Falls State Park in Georgia.
Near the path on the way up the mountain looks to be an almost rock slide that happened some time ago where water rushes among the plants and rocks.
Going farther up the path...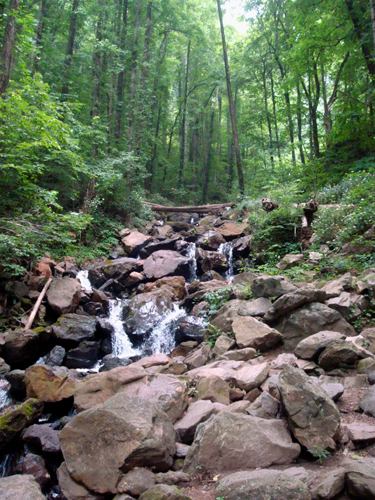 All Photo Galleries » Georgia Pictures
...yields and even larger amount of water rushing faster and falling at a quicker rate.
The sound of a slow-moving waterfall can put you in a serene state as it splashes off everything in its path. I can picture having a nice relaxing picnic or reading an entrancing book at the water's edge.