Appalachian Trail Approach Springer Mountain Georgia
The Appalachian Trail approach at Springer Mountain in Georgia is a beautiful area to either begin a thru hike on the 2100 plus mile Appalachian Trail and also just to nice place to visit.
The approach of the Appalachian Trail in Georgia starts in the Springer Mountain area.
Many people every year attempt to hike the entire Appalachian Trail which extends over 2,100 miles through several states from Georgia to Maine.
This stone arch is located to the rear of the Amicalola Falls visitor center. From there, it's a short hike up to the lodge on top of the mountain where there is also...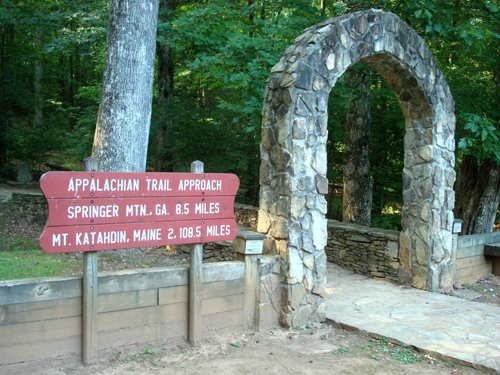 All Photo Galleries » Georgia Pictures
...a spectacular view from the top of Amicalola Falls.
From Springer Mountain, it's 2108.5 long miles to Mt. Katahdin in Maine. Many people attempt to thru hike the entire trail in a single season, most of which start early in April to avoid missing the closing date of Baxter Start Park in Maine on October 15th.