Old Covered Wooden Bridge Footbridge White Mountain Forest
The Sentinel Pine Bridge is an old covered wood foot bridge that was constructed almost entirely from a single Pine tree located in the White Mountain Forest.
The Sentinel Pine Bridge is a covered wood footbridge that was crafted from a single Sentinel Pine tree in the White Mountain Forest.
Old beams of wood support the length of the bridge as well as the covered portion with hand crafted shingles made by John G. Welch and "Old Joe", Poloquin, a local Native American of the day.
Walking across the wooden span of the bridge is comfortable as it is very strong and not like a creaky old racketing of a bridge about to fall.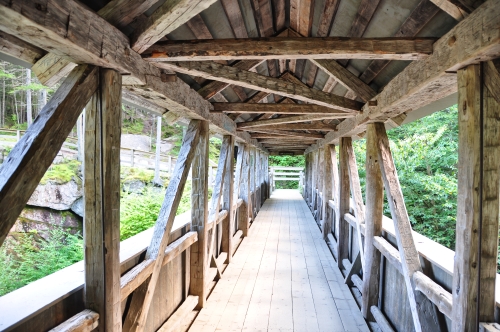 All Photo Galleries » New Hampshire Pictures
It crosses a stream that runs down to "The Pool" in Franconia Notch State Park which is very near to Flume Gorge, a famous local attraction.
The path across the bridge winds to the left and through the forest on a short couple mile hike with beautiful vistas filled with waterfalls and ancient glacial boulders.
Also nearby is a creepy bear cave and a wolf's den making for a tight squeeze.