Beautiful Natural Waterfall Scenery NH
This natural beautiful waterfall scenery in New Hampshire is like being in a dream but actually being awake.
Seeing waterfalls in their natural environment is like being in a fantasy where sometimes what you're seeing with the naked eye is almost too real to believe.
This beautiful waterfall scenery was taken in a natural spot in New Hampshire amid mountain terrain and easily accessible footpaths.
The rock formations almost shoot up creating Avalanche Falls in this well known state park amid the lush greenery and foliage.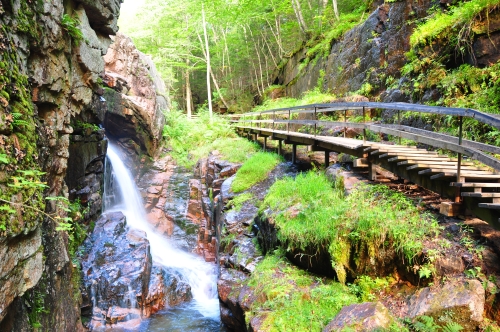 All Photo Galleries » New Hampshire Pictures
The waterfall forms a small pool at the bottom, feeding and bringing to life all the vibrant green colors that adorn this scene.
The wooden walkway provides an up close look at the natural waterfall and adds a great element to this beautiful picture.