Avalanche Falls Waterfall New Hampshire
Avalanche Falls located in Flume Gorge is a 25 foot waterfall within the beautiful scenery of Franconia Notch State Park.
The beautiful Avalanche Falls waterfall lies just through Flume Gorge in Franconia Notch State Park in New Hampshire.
The magnificent mini-cascade is a height of 25 feet and from the platform is a distance of about 10 feet making it a great one for pictures.
Walking past the bottom of the waterfall on the walkway, some things to see will be a garden of lichens just before and to the left, and to the right is a basalt cave.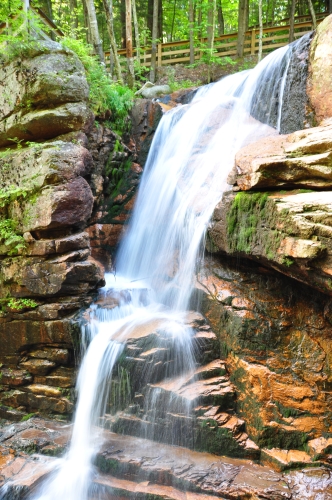 All Photo Galleries » New Hampshire Pictures
As shown in the photo on the top, the hiking path extends around the base of Avalanche Falls and turns up around to the top.
The best views are from the bottom and it's well worth the wait to let any spectators move on while you stay for a great picture opportunity.