Old Covered Bridge in Forest
Walking along a trail in the forest near Flume Gorge, you'll come across an old covered bridge structure that crosses a flowing stream in New Hampshire.
Hike along short trail in the Franconia Notch State Park and you should come across this old covered bridge in the forest.
The path is beautiful with in laid rocks and vibrantly green trees living peacefully in the forest.
The history of this old wooden bridge is that it is constructed almost exclusively by one old tree that fell in a strong hurricane in years past.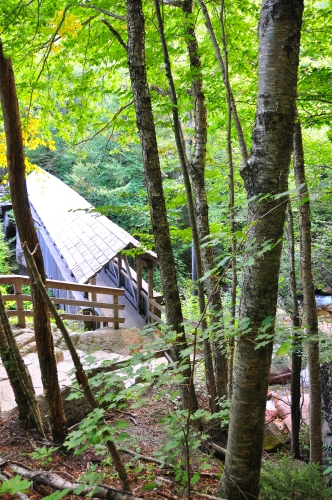 All Photo Galleries » New Hampshire Pictures
The hand made shingles were skillfully slotted atop the roof of the bridge to give some comfort in a storm or from the sun.
This addition to the park adds a unique historical aspect as well as some character.
In the surrounding forest, many animals are near including several chipmunks that made an appearance.