Smooth Flowing Solid Granite Heterogeneous Rock
This section of smooth flowing heterogeneous granite rock is located in Franconia Notch State Park in New Hampshire.
A stream flows along a section of Conway granite rock located in Franconia Notch State Park near Flume Gorge in New Hampshire.
By nature, granite rock is a heterogeneous substance meaning that the composition is not uniform and can be easily identified as there are two or more phases present.
The flowing visual appearance was created by a long period of erosion of water from Flume Brook flowing over it.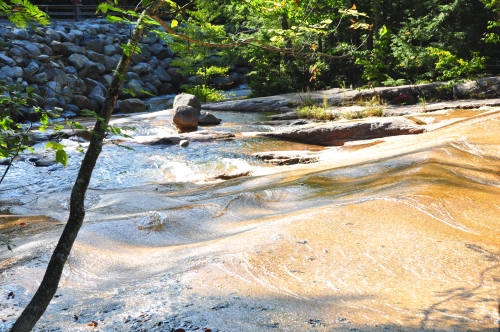 All Photo Galleries » New Hampshire Pictures
This section of granite is just downstream of Table Rock, a large 500 feet by 75 feet granite rock formation eroded over time by the water.
There are many things to see and this is only one attraction that is visible on the way to Flume Gorge.