Waterfall Franconia Notch State Park NH
A waterfall rushes down a stream through the Flume Gorge at Franconia Notch State Park in New Hampshire.
A quaint rushing waterfall flows down the middle of the Flume Gorge at Franconia State Park, NH.
This is one of the few waterfalls that flow through the main part of the park and is one of the smaller.
Franconia Notch State Park is located in northern Hew Hampshire in the White Mountains.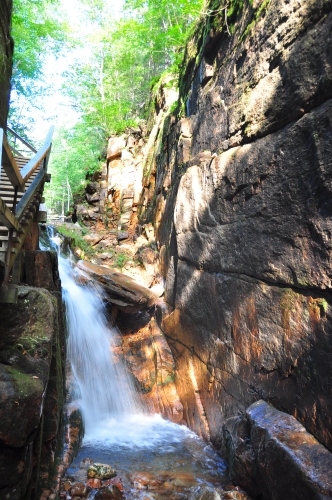 All Photo Galleries » New Hampshire Pictures
This park is a mountain pass between the Kinsman Range and Franconia Range and has several attractions including Flume Gorge, a historical site called Old Man of the Mountain, and the Cannon Mountain ski resort.
Hiking through this wonderful park is well worth it to see waterfalls, covered bridges and some of the local wildlife like chipmunks.