Fantasy Shadowy Chasm Flume Gorge NH
The shadows from the sun begin to enshroud the dream like chasm at Flume Gorge in New Hampshire.
The shadows on the walls of the chasm at Flume Gorge, NH transcend the mind into a dreamlike state of euphoria.
No this isn't a drug, but the effects of being in a place as beautiful as this can be amazing.
Right out of a fantasy or old storybook tale is how I might describe this area of Franconia State Park in New Hampshire.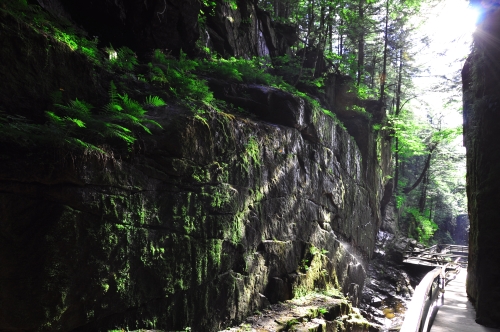 All Photo Galleries » New Hampshire Pictures
The sounds of rushing water over the waterfalls and sight of green algae and ferns clinging to the side of the rock cliffs gives quite a spectacle.
In this picture, water droplets splash and trickle down the edge of the rock face as trees tower above.
Just as the sun is being put to rest is when you might have the best chance to experience this place in solitude.