Wooden Walkway Waterfall Flume Gorge NH
A wooden walkway ascends on the rock face near a waterfall at Flume Gorge, Franconia State Park.
Walking along the wooden walkway attached to the side of the chasm at Flume Gorge, whooshing waterfalls rush underneath and alongside.
The tan colored granite rocks were formed ages ago and were split apart by magma forcing the rocks apart.
Today, visitors walk along the path past waterfalls, whirlpools, rushing streams, and historic covered bridges.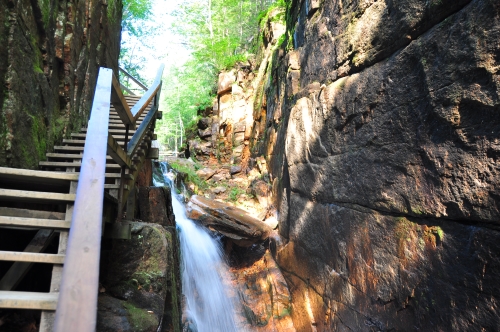 All Photo Galleries » New Hampshire Pictures
Franconia State Park is a wonderful place to visit in the summer time.
The quick hike starts off at the charming visitor's center which has loads of information on the flume and the geologic areas surrounding Flume Gorge.
In the winter, the water is frozen and people actually climb the vertical walls as a sport.