Horseshoe Falls at Niagara Falls Glowing Aqua at Night
The Horseshoe Falls at Niagara Falls glows aqua at night when the lights hit it and change the color of this beautiful waterfall.
Niagara Falls is beautiful at night with Horseshoe Falls and the American Falls being the stars of the show.
They are bathed in glowing light that keeps fading in and out and changing with the current color being aqua.
Take your camera to the Canadian side for the best view of both falls at nighttime since the only view otherwise is the top of the falls going over the edge.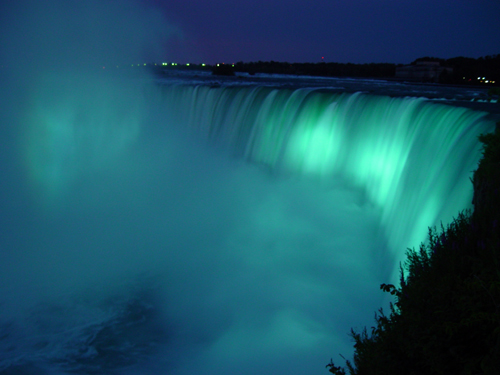 All Photo Galleries » Niagara Falls Pictures
I was actually taken by surprise when I seen this because I had never even thought of what the falls look like in the evening.
By sundown there are still many people leaning against the railing trying to get that perfect shot of Niagara Falls and the light show just makes the experience even more memorable.