Niagara Falls Maid of the Mist
Niagara Falls lended some of its history to the popluar Maid of the Mist boat tour.
Niagara Falls used to be a large divide between the United States and Canada but with opening of the Maid of the Mist in 1846, it acted as a ferry for passengers to cross from one side to the other.
With the opening of the Whirlpool Rapids Bridge, people could cross much easier and the Maid of the Mist began to lose business so they transformed themselves into the tourist attraction they are today.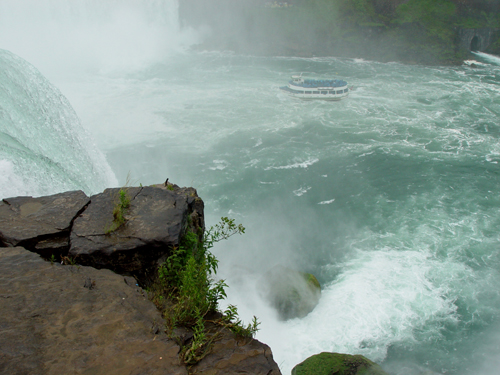 All Photo Galleries » Niagara Falls Pictures
There are actually several "Maid of the Mist" boats that take people directly to the base of the falls, each one named the same with a Roman numeral to designate them.
The ride is well worth the money if you're willing to get a little wet. The boat starts on the Niagara River by the Rainbow Bridge and cruises past the American Falls, Bridal Veil Falls, and into the spray of the massive Horseshoe Falls.