Goat Island Terrapin Point View of Niagara Falls
The view from Goat Island's Terrapin Point at Niagara Falls gives an up-close view of Bridal Veil Falls as well as the Horseshoe Falls from the top looking down over.
Goat Island is situated at Niagara Falls right in between the Bridal Veil Falls and the Canadian Horseshoe Falls.
Terrapin Point is an excellent place to see the Maid of the Mist travelling down the Niagara River and into the mist cloud that Niagara Falls kicks up from its awesome power.
Looking over the edge at Terrapin Point is experiencing the moment of freefall of vast amounts of heavy water.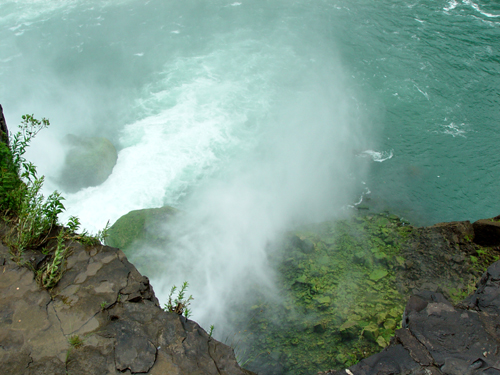 All Photo Galleries » Niagara Falls Pictures
It's almost hard to imagine how much kinetic energy is being expelled from Niagara Falls until you see it with your own eyes.
The rocks below are covered in green moss and repeatedly take a pounding day after day and year after year from the unending flow of Niagara.